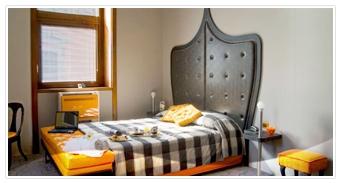 Style, emotion, elegance for unique and relaxing ambience, all to enjoy in harmony, encircled by modern comforts and services for a unforgettable and unique stay in the heart of the Eternal City close to the most important monuments like San Pietro and Vatican Museums: in a word the Orange Hotel. In this new boutique hotel you can find splendid ambience, where you can relax immersed in a refined elegance and a big choice of comforts.

Come to discover the panoramic terrace completed with solarium, which will give you the unique view of San Pietro, our lounge bar, internet point, restaurant "Roof – Trattoria sul Tetto" .

Here you can find a perfect ambience for every your needs, for a business meeting, romantic dinner or quick cocktail with your friends.

At our restaurant you can taste the flavours of the Italian and regional cuisine, with healthy and selected products, where all is refinement and prestige with an excellent international and national choice of wine.

Moreover, for those who come for business reasons, they find at their disposal "Orange meeting&lobby" . Our philosophy is the classic natural comfort, which you can see in the ancient furniture used in a modern way according to the spirit of our designers, in order to create coloured and welcoming places, completed with every modern technology like LCD screen, audio and ADSL internet.

But the emotions don't finish here. A big panoramic hydro massage bathtub "Orange sparkling & Fresh" completes the splendid solarium: which is the ideal place after a busy day where you can relax and have a break.

We want to remember you that if you want to have access to this service, you have to book it in advance.

The big choice of services and comforts is completed by: private garage (on booking) and the abundant buffet breakfast served in our terrace, where you can taste the best traditional salad and sweet Italian products as well as optimal coffee.